The first school hackathon "HackTUES" was organized by students of the Technology School "Electronic Systems" associated with the Technical University – Sofia (TUES) and took place from 26 to 28 June 2015. The hackathon is a new kind programming competition, which brings together a large number of participants divided into teams up to 5 people. For several days they work on solving practical problem or theme set by the jury of the competition.
The theme of the first full school hackathon in Bulgaria was "Automation and improvement of the learning process." The purpose of HackTUES is to contribute to the automatization of learning process in school, and to enable students from different classes to gain practical experience in creating software, teamwork and the support of community causes such as automatization of education. Team mentors and jury members as teachers of the school and representatives of different companies working in the field of information technology HackBulgaria, ChaosGroup, MusalaSoft.
In hackathon attended by 88 students from the eighth to the eleventh grade in TUES, divided into 18 teams. The hackathon was won by students from the eighth grade.
The competition is supported by MusalaSoft, HackBulgaria, Chaos group, Software University, StandByte and Subway Bulgaria.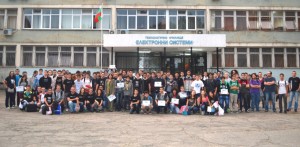 All participants in HackTUES
| | |
| --- | --- |
| Winners in HakTUES 1st Place | HackTUES organization team |
More information about the hackathon:
https://my.pcloud.com/publink/show?code=NfUitalK#folder=32619349
Publications for the hackathon  in the media:
http://m.pcworld.bg/24266_parvi_uchenicheski_hakaton_u_nas_shte_podobryava_uchebniya_proces
http://www.itechnet.eu/2015/06/blog-post_24.html?m=1
http://alfarss.net/1435131777.html
http://pcworld.bg/24301_eto_koi_sa_pobeditelite_v_parviya_uchenicheski_hakaton
http://technews.bg/article-82627.html