In the last year in Technology School "Electronic Systems" associated with Technical University of Sofia (TUES, TU-Sofia), Bulgaria one of the partners in the project KNORK, have been introduced new pedagogical methods for collaborative learning using cloud technologies. A new course plan based on the design principles of trialogical approach was developed and a project-oriented education and training were realized in the field of "Global networks". Implementation of new pedagogical practices in the learning process yielded excellent results from training. Verification of acquired knowledge, skills and competencies is not only in the classroom but also in real situations of professional forums and competitions.
In the month of April 2015 was conducted National networking competition for students in Bulgaria, organized by the Ministry of Education and Science, Faculty of Mathematics and Informatics at Sofia University – Sofia and the Bulgarian Association of Networking Academies. Students from all over Bulgaria participated in the competition.
Competitors from TUES, TU-Sofia won the first six places in the ranking, as well as a total of 10 places in the group of the 20 finalists. TUES won the prize for the best school in the competition.
All finalists are admitted to students without entrance exam at the Technical University – Sofia and Sofia University.
At the award ceremony was attended by Deputy Minister of Education, government experts from the Ministry of Education, representatives of companies from the ICT sector in Bulgaria.
Deputy Minister of Education Mrs Vaniya Kastreva awards personally all winners of the networking competition.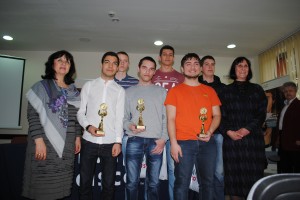 Publications for the networking competition in the media: